Kids' Club 9/2 - FULL for 2022-09-02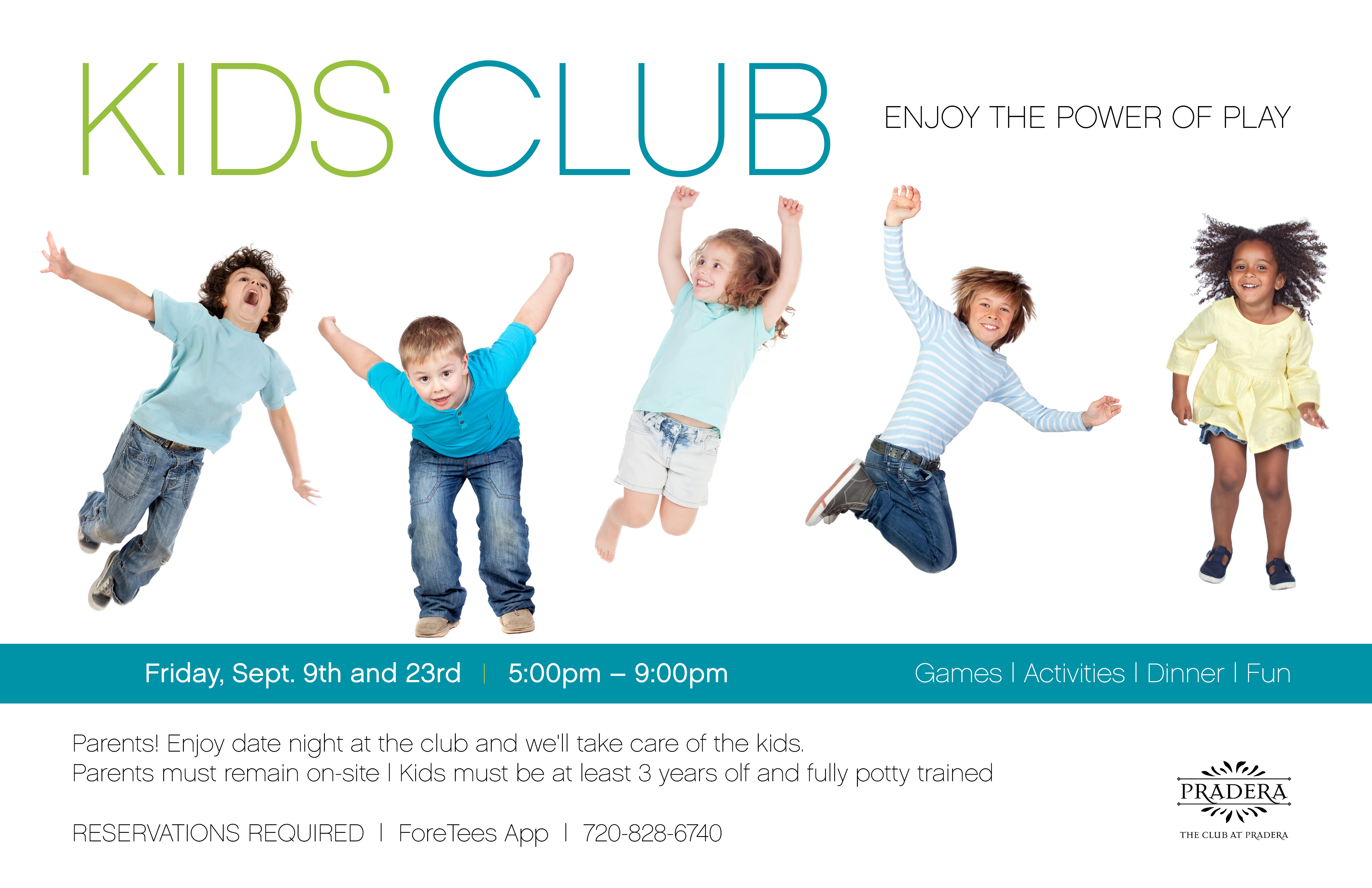 THIS EVENT IS CURRENTLY FULL.
PLEASE CONTACT SARA TO JOIN THE WAITLIST
720-828-6740 | SDEVANNEY@ARCISGOLF.COM
KIDS' CLUB (AVAILABLE FOR THOSE ATTENDING COUPLES GOLF OR ROCK ON THE RANGE)
NO A LA CARTE DINING AVAILABLE ON 9/2
SEPT. 2ND | 5-10PM
_________________________
Parents - Relax and enjoy Friday night at the club without having to find a babysitter.
Kids Club is complimentary to all members. ($7.50 per Kids Meal)
Pradera golf members can participate in Couples Golf - all members are welcome to register for Rock on the Range
Separate golf or event registration is required.
Kids will participate in a variety of fun activities!
Outdoor Play | Games | Puzzles | Blocks | Crafts | Movies and more...
___________________________
***Kids' Club registration opens 30 days in advance at 7am on ForeTees.
***Please register a drop-off/pick-up parent to ensure you receive a confirmation email.
___________________________
KIDS CLUB POLICIES
-PARENTS MUST REMAIN ON-SITE WHILE KIDS ARE AT KIDS CLUB (NO EXCEPTIONS)
-KIDS MUST BE AT LEAST 3 YEARS OLD AND FULLY POTTY TRAINED
-ONLY REGISTERED KIDS ARE PERMITTED TO ATTEND ? MEMBERS ONLY
-48 HOUR CANCELATION POLICY APPLIES ? A NO CALL/NO SHOW WILL INCUR A $25 CHARGE PER CHILD
(IF YOU CANCEL WITHIN 48 HOURS AND YOUR SPOT(S) ARE FILLED, YOU WILL NOT BE CHARGED)