Details
11:00pm to 7:00pm
General
Food Drive for Thursday, April 2, 2020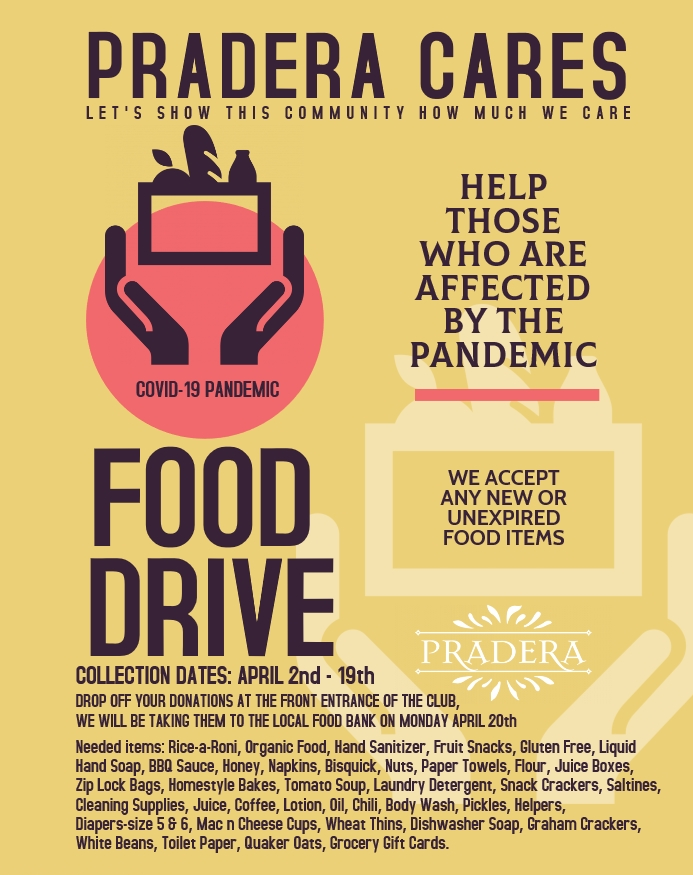 Let's show this community how much we care!
Please drop off your non perishable food donations to the drop box at the front entrance of the Club.
Donation boxes will be stored inside overnight for safe keeping.
All donations collected will be delivered to the Parker Food Bank On Monday April 20th.
Current Needs:
Rice-a-Roni, Organic Food, Hand Sanitizer, Fruit Snacks, Gluten Free, Liquid Hand Soap, BBQ Sauce, Honey, Napkins, Bisquick, Nuts, Paper Towels, Flour, Juice Boxes, Zip Lock Bags, Homestyle Bakes, Tomato Soup, Laundry Detergent, Snack Crackers, Saltines, Cleaning Supplies, Juice, Coffee, Lotion,
Oil, Chili, Body Wash,Pickles, Helpers, Diapers-size 5 & 6, Mac n Cheese Cups, Wheat Thins,
Dishwasher Soap, Graham Crackers, White Beans, Toilet Paper, Quaker Oats.
We Also Need Grocery Store Gift Cards in any Amount.

We Also Need Dry Dog & Cat Food
(Please no bags larger than 20 lbs.)
Please Note: We cannot stock expired food items.
We appreciate your assistance in verifying that all food items have valid expiration dates.