Beauty and the Beast Daddy Daughter Dance for Saturday, May 20, 2017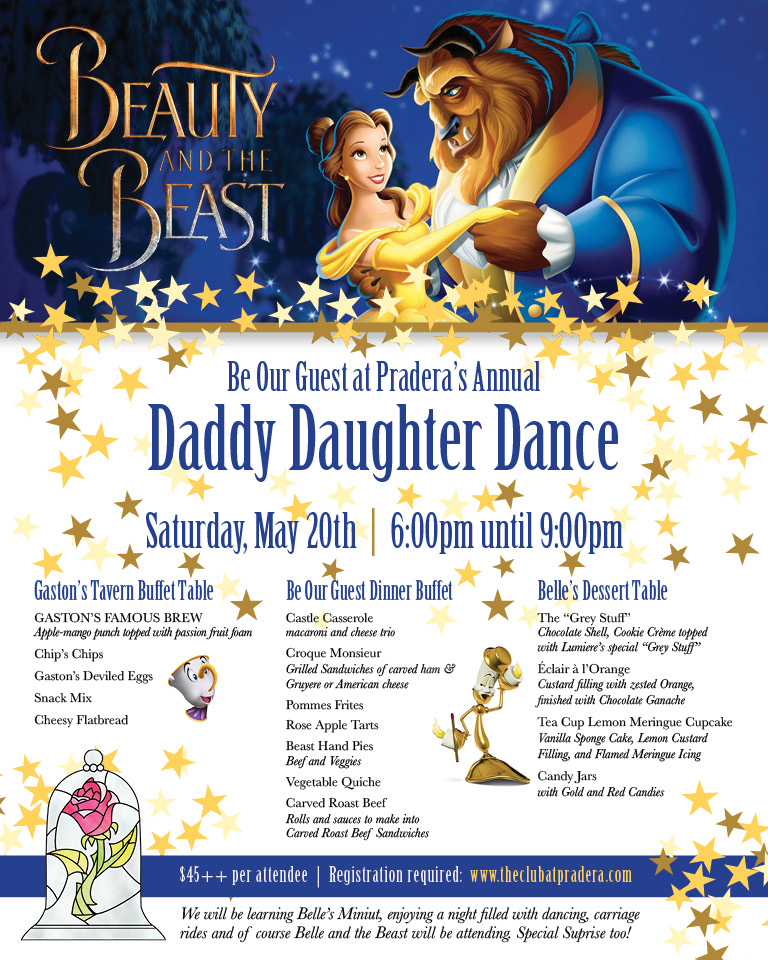 Be our Guest at Pradera''s Annual Daddy Daughter Dance.
We will be having learning Belle's Miniut, enjoying a night filled with dancing, carriage rides and of course Belle and the Beast will be attending. Special Suprise too!
$45.00++ per attendee.
Registration Required
Food Selections include:
Gaston's Tavern Buffet Table:
GASTON'S FAMOUS BREW -Apple-mango punch topped with passion fruit foam.
Chip's Chips
Gaston's Deviled Eggs
Snack Mix
Cheesy Flatbread
Be Our Guest Dinner Buffet:
Castle Casserole – macaroni and cheese trio
Croque Monsieur – Grilled Sandwiches of caved ham and Gruyere cheese. ( or American)
Pommes Frites
Rose Apple Tarts
Beast Hand Pies (beef and veggies)
Vegetable Quiche
Carved Roast Beef – Rolls and sauces to make into Carved Roast Beef Sandwiches
Belle's Dessert Table:
The "Grey Stuff"
Chocolate Shell, Cookie Crème topped with Lumiere's special "Grey Stuff"
Éclair à l'Orange
Custard filling with zested Orange and then finished with Chocolate Ganache
Tea Cup Lemon Meringue Cupcake
Vanilla Sponge Cake, Lemon Custard Filling, and Flamed Meringue Icing
Candy Jars with Gold and Red Candies